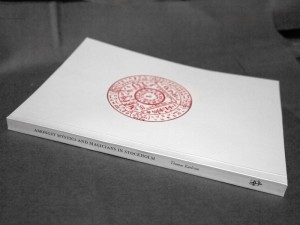 Amongst Mystics and Magicians in Stockholm
Thomas Karlsson
The Swedish based order Dragon Rouge (Ordo Draconis et Atri Adamantis) was founded on New Year's Eve in 1989 by Thomas Karlsson and a group of magicians. The order, which focuses on Draconian initiation in relation to qliphothic qabalah, has since grown into a world-wide organisation, and is today mainly centred to Europe and America.
In 'Amongst Mystics and Magicians in Stockholm', Thomas Karlsson accounts for the initial years of his magical practice during the years 1989-1991, a practice that led to the formation of Dragon Rouge. In his very personal first person narrative, Karlsson retells many important experiences that he had at his summer house on the island of Gotland and in Stockholm during the occult boom in the 90s. The book holds a lot of references to the sub-cultural context of the author's youth and accounts of his epochal journey to Marrakech, Morocco, where he received the prophecy to build a temple for the red Dragon.
'Amongst Mystics and Magicians in Stockholm' was originally released in Swedish in 2012 and is now released in its first English edition by Belzebez as part of the a new series, Canōn. Canōn consists of publications that are a genuine part of the body of the great Dragon and hence important to the Draconian current, but might not have received an appropriate dispersal or attention, or diverge from our general releases in production, topic or origin. The book is the first in a trilogy about the history and development of Dragon Rouge and the initiatory journey of some of its members.
Thomas Karlsson, born in 1972, has written several books on esotericism and magic. He holds a PhD in History of Religions from Stockholm University and has done extensive research on the Swedish mystic Johannes Bureus and his Gothic Kabbalah and runic alchemy. Thomas is also a known guest singer and lyricists in different bands such as Therion, Serpent Noir and Shadowseeds.
The first English edition of 'Amongst Mystics and Magicians in Stockholm' is printed and bound in Gothenburg, and is limited to 200 copies of 140 pages, and they are available exclusively through Midian Books.
£29.00